What is a Carbon Facial Treatment?
Introducing our latest treatment at Laser Skin Therapy, which is our Carbon Facial Treatment, you may have heard of it but may not be sure what it is or if it would work for you.  Read on to find out more……..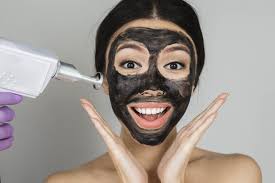 The Carbon Facial Treatment can also be known as the Carbon Facial Peel or Carbon Laser Facial and also the Hollywood Carbon Laser Facial or Hollywood Peel, due to its popularity with many celebrities.
This treatment provides and instant boost to the skin with glowing results and no downtime, it can be done as little as a day before special events, lending it the nickname "red carpet laser"
Using the combination of nature, specifically carbon which is an organic substance known for its ability to absorb impurities, and science the Q-switched laser rejuvenates the skin.  Resulting in a treatment which mildly exfoliates and resurfaces the skin while also helping to reduce the appearance of fine lines and wrinkles and enlarged pores.
It is also beneficial for the treatment of acne as the heat generated by the laser by reduces excess oil production and killing the acne causing bacteria in the skin.
The laser also has the ability to reach the deeper layers of the skin to stimulate collogen production, which in turn produces firmer, plumper looking skin resulting in a glowing complexion.
Who is this treatment best suited too?
As the treatment is an exfoliating and resurfacing treatment that also stimulates collogen production the benefits of this treatment include
Reducing fine lines and wrinkles
Reducing the appearance of enlarged pores
Reducing active acne, scarring and post acne pigmentation
Improvement of skin texture
Aids in reducing congestion and breakouts
What happens during the treatment?
This treatment requires a consultation and patch test before commencing any treatments, this ensures you are suitable for the treatment, and a patch test will be carried out on a small area of skin, this allows you to experience what the treatment will feel like and what to expect.
Following your consultation and patch test there must be a minimum of 48 hours before your first treatment, certain clients may require a longer period of time before their first treatment this will be discussed with you at this time if relevant.
Coming back for your first treatment we ask that you come with no products on your face, a cleanse of your face is carried out and once dried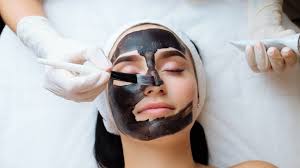 a thin layer of carbon paste is applied to the face and this is allowed to dry before the treatment can commence.
We then apply your safety goggles and using our Q-switched laser we treat the whole face with the laser removing the carbon on the skinn.
How long does a treatment take?
The treatment itself is relatively quick usually 30 mins
Will it hurt?
No.  This treatment is non invasive and will not cause any pain, the most you will feel is a slight tingling on the skin as the laser is passed over the area.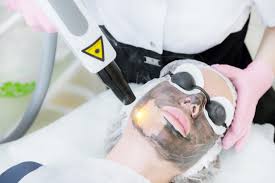 Is there any downtime after the treatment?
No.  This treatment does not cause any adverse effects to the skin, following the treatment the skin may be slightly red but this usually settles.
We advise all clients they MUST wear SPF of at least 30 or above to reduce any risk of developing hyper or hypo pigmentation to the treated area.
We also advise to avoid applying make up for the rest of the day following a treatment and avoid activities that may cause excess heat to the face e.g gym, sauna or hot showers. Normal activities can resume the following day
Will I need more than one treatment?
It is advised that a course of 6 treatments be carried out to achieve the best results, however you will likely see noticeable results after your first treatment.  Courses of treatments are carried out at 4 week intervals and following completion of a course you can have top up treatments when you feel you need it.
How much does it cost?
This treatment is currently on offer at £60 per treatment (normally £100 per treatment) and your consultation and patch test can be booked on our website.
This treatment is for over 18's only