Frequently asked questions
Here at Laser Skin Therapy, Belfast, one of our very popular treatments is microneedling, but many of our clients have not heard about it but are not sure exactly what it is and what it treats. We have compiled a list of our commonly asked questions about microneedling.
What is microneedling?
Microneedling is a particular method of skin needling also known as collagen induction therapy, it involves repeatedly causing small punctures on the skin with tiny sterile needles. This is a minimally invasive treatment is used to treat a wide variety of skin concerns including fine lines, scars, stretch marks and boosting collagen allows skin to look and feel refreshed and glowing.
What results can I achieve with microneedling?
In the short term immediately after your microneedling treatment the skin will feel plumper and glowing for a few weeks, longer term improvements are achieved over a longer period of time with a course of treatments. The action of puncturing the skin stimulates the body's repair response flooding the treatment area with boosts of collagen, elastin and fibroblasts which are all essential components in producing skin that looks and feels luminous and glowing. A course of 4 – 6 microneedling treatments is recommended every 4 to 6 weeks to achieve maximum results.
Does microneedling hurt?
Any skin needling treatments can be uncomfortable but bearable, areas such as the forehead, upper lip and around the lower eye can be slightly more sensitive as there is less tissue in these areas. Clients can apply their own numbing cream to the skin as advised prior to their appointment.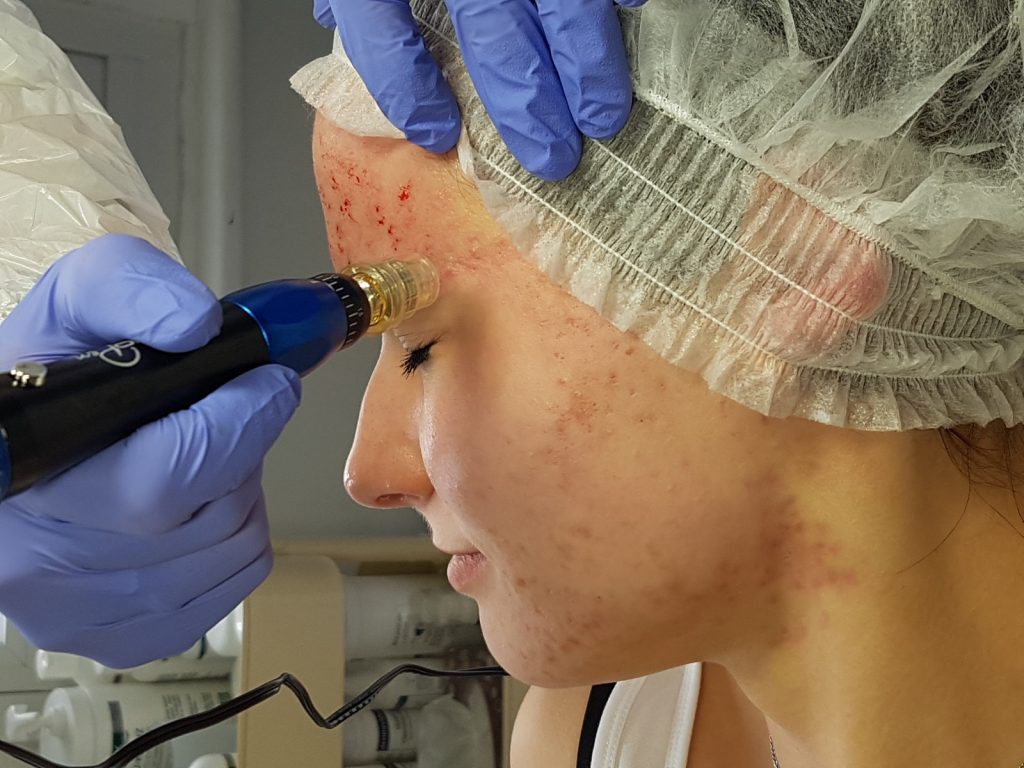 What can microneedling be used to treat?
Microneedling is an amazing treatment for a variety of skin concerns. The stimulation of collagen can significantly improve the appearance of acne scarring, stretch marks and fine lines.
What do you use for microneedling treatments?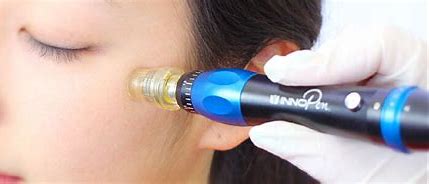 We are able to offer our clients a specialised skin needling treatment using our INNOPen TM which is an innovative device that utilises tiny surgical grade needles to perforate the skin in a perfect stamp like motion, it also offers the safest method of collagen induction therapy because it leaves the epidermis (outer skin layer) completely in tact and undamaged. This allows us to provide virtually painless skin rejuvenation without traumatic side effects which are common with traditional methods of skin needling.
What is the cost of microneedling treatments?
Our single session microneedling treatments are £120. How long does microneedling take?
As we advise a course of treatments discounts are available on courses of treatments.
Where can I get microneedling treatments in Belfast?
Well you're in luck. Here at Laser Skin Therapy, Belfast we are experts in microneedling and our team of therapists have completed thousands of treatments with fantastic clients for our clients across Northern Ireland.
About Laser Skin Therapy Belfast
Laser Skin Therapy is located at 2A Marmount Gardens, Belfast BT14 6NW.
Our opening hours are 9am – 5.30pm Mon – Sat with late night opening on Thursdays.
Booking is by appointment only.
Our range of services include:
Tattoo Removal
Hair Removal
Acne treatments
Rosacea treatments
Pigmentation Removal
Thread Vein Removal
Skin Rejuvenation
Chemical Peels